Welcome to Journey of the Awakened Heart
Teachings of Archangel Michael
"Allow Your Heart to Become the Guiding Force of Your Life"
As we continue our journey on the pathway of self mastery, many of us are seeking support and guidance as we move within uncovering deeper aspects of ourselves. It is for this reason I would like to share with you Teachings of Archangel Michael that I have been a messenger for since 2002. Michael's messages give us the loving support and guidance we seek so we can continue on our journey.
Today I am sharing with you a wonderful message from Michael where he asks us to Open Our Heart to Release Our Mask and Reveal our Essence to the World.
You can scroll to the bottom to read Michael's message.
Wonderful Workshop
at
Transcendence Wellness Center
Kansas City
A Pathway to Loving, Honoring and Valuing You
I had the good fortune of presenting my initial workshop A Pathway to Loving Honoring and Valuing You at Transcendence Wellness Center in Kansas City KS. It was wonderful meeting and working with so many amazing folks on their journey. When we do this work we have our own experience when we are sharing it with those who are there to receive it. We see a mirror in the experience and I surely learned so much about so many things including myself.
Thanks to Jessica Alstrom and Susie Dressel for proving a wonderful space in which to work and share the Teachings of Archangel Michael. And thanks to my friend Willam Kollar for his support to all of us by lending his expertise as a videographer, meditation leader and silent teacher.
I plan on doing this workshop that is taken directly from my book Journey of the Awakened Heart in the future so stay tuned for where and when.
Divine Discussions:
Gathering with Archangel Michael
With Trance Channel Jeff Fasano
Thursday July 30th, 4pm (Pacific) / 7pm (Eastern)
Join me and The Angel News Network this Thursday, July 30th for a Gathering with Archangel Michael.
This is a sacred gathering where you will have opportunity to speak with Archangel Michael directly and with his assistance move through what is transpiring in your life now.
This gathering brings together like-minded and spirited individuals seeking to move deeper within, and raise their level of consciousness and awareness of who they are and why they are here.
Archangel Michael's teachings deal directly with Self Empowerment and the Personal Process. By experiencing his energy you will gain greater clarity to move forward on the pathway in your life.
Attend live at our classroom at:
We share this with you on a LOVE OFFERING basis.
Archangel Michael's message is to love, honor and value ourselves. As a trance channel, I have been a messenger for Michael's teachings since 2002. So I decided to create a weekly video series entitled Journey of the Awakened Heart based on Michael's teachings. It is a series of simple and helpful messages and exercises that will allow you to move within and give you tools to help you along your pathway to self mastery.
If you would like to view them simply click on this link:

My Book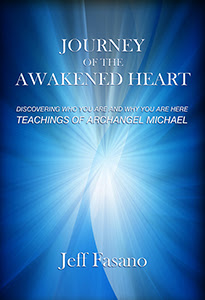 If you would like you can purchase a copy of my book click right here:
You can also purchase the many books in the Angel News network library by clicking here:
For information about Jeff and his work please visit:
One on One Private Session
with Archangel Michael


Many of us now are in need of individual communication and healing concerning the shifts taking place in our world and within us as well. This is a One on One session with Archangel Michael for in depth guidance and support for your personal growth. In these sessions Michael guides and supports you exactly where you are in your life. They can be transformational and a wonderful way to support you in your process to live your life with greater clarity, purpose, ease and joy.
A session with Michael is personal and private and can be done in person and by phone as well. It is one hour in length and you will receive an audio recording of each session.
The cost is $100 per session
To purchase a session with Archangel Michael click here:
A Message from Archangel Michael
Channeled by Jeff Fasano
Open Your Heart and Release the Mask
From the Archangelic Realm of Michael this is Michael and we welcome you as you move deeper into the depth and breadth of your heart space and moving into the grandness of self, the greatness of self, the wonderment of self. As you move on your pathway and move deeper into the depth and breadth of your heart you open up to a greater sense of who you are and towards a greater love of self. The reason for this is you are opening your heart to yourself.
So We ask you to OPEN YOR HEART. Open your heart to transparency and to authenticity. Open your heart to show the world the essence of you. How does this make you feel? As you open your heart and present yourself to the world, how does that make you feel? This, dear ones, is where you are headed. Opening up the depth and breadth of you, in full revelation of you, revealing yourself to the world.
As We speak to you about opening your heart and revealing all of you to the world, does judgment and shame arise within you?
It is time to move into the full beingness of self and allowing yourself to recognize the uniqueness of you. Do you recognize yourself? Do you know you are unique?
Moving into full recognition of the essence of you in the depth and breadth of your heart, is only attainable by releasing your mask. Each and every one of you, to some degree have a mask in place from time to time and it is important to notice and observe when you are doing this.
Are you fully being you? Do you take a calculated risk and reveal only aspects of you when walking out amongst others in your third dimensional realm? Are you frightened to expose all of you to the world? Do you keep the mask in place just enough so you will feel safe and secure? Is your objective to feel safe and secure? Projecting the mask outside of yourself will give you the false notion or pretense that you are safe and secure.
You see, the reason why the mask has been put into place is because each and every one of you is seeking love. You want to be loved. The old behavior was you would do something, perhaps anything just to be loved. You might give yourself up to be loved.
Take care of others needs to be loved. You created a mask to be whatever others wanted you to be so you would be loved.
So We ask you to open up to the love in the essence of yourself and allow that to shine out on the world. Look into a mirror directly into your yes and say to yourself, I am me! I love me and I am going to show me to everyone out in the world. Be with the feelings that come up. You may feel exposed. You may feel not good enough. You may feel not perfect enough.
It is when those feelings arise within you, amongst many more, the heart may shut down. You then move into the mental body and utilize the mask to avoid those feelings. I am feeling exposed, I am feeling not good enough, I am feeling not perfect enough, I am frightened. I am feeling unsafe. I am feeling out of control, so I will put up my mask and then I will be control of everything. Might this sound familiar?
It is time to fully feel your feelings and be who you are. It is time to release the behavior of avoiding your feelings. If you continue to avoid your feelings you will remain repeating old habits, patterns and rituals to create the mask to avoid your feelings. You are not those feelings, they are just feelings
Dear Ones, open your heart space. Allow your effervescent white light in the depth of your heart to shine out on the world in the full beingness of you in transparency and authenticity. It is time to be you. It is time to release looking for acceptance outside of yourself. It is time to ask yourself: Is it okay to be me? Is it perfectly acceptable by me to be me?
JOURNEY OF THE AWAKENED HEART
THE ANGEL NEWS NETWORK
Join us on Facebook
Follow us onTwitter